Brent scores big with his Classic Takedown Recurve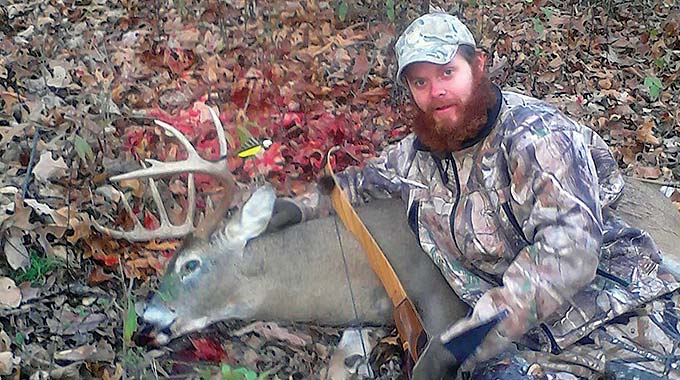 My friend Brent scored big on this nice 10 point buck this weekend (November 3) with a bow that I made for him. One of his Facebook friends said that "Brent scored on a nice buck with is "old school bow"…lol. As you and I both know, there is nothing old school about a fiberglass recurve, but in this age of high-tech metal compounds I guess that a traditional bow seems like something from the past. There is something really cool about "building your own bow" and killing a deer with it. It is even cooler when it is someone else kills a deer with a bow that you made.
The bow is my Classic Takedown Recurve design. Brent's bow is 70#@28″…a really strong bow I might add that puts out a heavy arrow with a lot of authority. Click here to read the previous post about Brent's bow.
Brent said the buck was a 10 pointer and probably weighed about 150 pounds. He killed it on his own property in northern Boone County, Missouri. The deer came to Brent's tree stand at about 7 a.m. He said the deer was so interested in looking at his doe decoy that the buck never knew Brent was there. Brent said that he stood up when the deer walked behind a cedar tree, then drew his bow and immediately released the arrow when the deer was between five and seven yards away. I asked him if he held his draw and he said, "No, I just pulled it back and then let the hammer down." That's what I'm talking about! I bet it was like a big hammer with his 700 grain arrow and 70 pound bow! He said the arrow penetrated both lungs, cut through ribs on both sides, and stopped with the Wendsel Woodsman three-blade broadhead just under the skin on the far side. Brent said the deer ran about 100 yards before it died. The arrow fell out when the deer fell down and was laying next to the deer.