A footed takedown recurve and woodies for Brent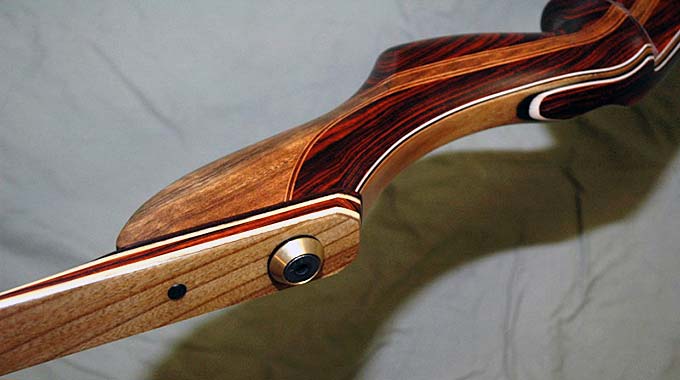 My friend Brent is new to traditional archery and asked me to build him a takedown recurve. I built this one using my blueprints for a 21″ riser and "C" limbs. These combine to make a 64″ AMO bow. This one turned out at 70#@28″. The riser is the "footed" riser design. The reddish wood with black streaks is cocobolo and the brown wood with black streaks is shedua. The curvy stripe is maple and walnut. The limbs are clear fiberglass over flat grain red elm veneers, and tapered bamboo cores. The limb wedges are cocobolo as well. Continue reading to see many more photos, a force draw curve, and Brent's arrows.
Here's a gallery of photos of Brent's bow
(Click on each photo below to see it larger.)
The Force/Draw Curve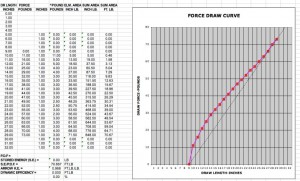 Here's a photo of the Force/Draw curve (click on the photo to see it enlarged). It looks good…really good, I think. There is no stacking at all at 29″ which is Brent's draw length. I've gotten to where I now make a force/draw curve on almost every bow that I make just to see how the bow is storing energy and pulling through the draw cycle. I recommend that everyone making bows should make a force/draw curve for every bow, especially when you are prototyping or making changes. It really shows what is happening in the draw cycle.
Some woodies for Brent
Also, here are some photos of the arrows that I made to go along with Brent's bow. The photo only shows six of them but I made a complete dozen arrows—six with field points and saved six to glue broadheads on later. I got these shafts from Hildebrand arrows in Washington. They make the straightest shafts that I have ever used. These are sitka spruce. I tried something new on these arrows. I wanted to add a bit of weight to the shafts to go with Brent's 70# bow, so I made a simple jig out of a scrap board so I could drill a 1/8″ hole into the point of the arrow. I made the jig by drilling a 1/8″ hole all of the way through the board, then counter boring a 3/8″ hole so it was perfectly centered with the previously drilled hole. This allowed me to hold the arrow shaft in the jig with one hand and drill it out with the 1/8″ bit with the other. After drilling, I inserted a 16 D finishing nail into each shaft. This added about 79 grains to the arrow and brought the grains per pound up to about 650 grains. This made them about 9.2 grains per pound, which should help with the weight distribution "forward of center" (FOC) and promote longevity of the bow limbs. I like to shoot at least 8 gpp out of the bows that I build just to stay on the safe side.
>Click each photo to see it larger.<