Five common styles of longbow grips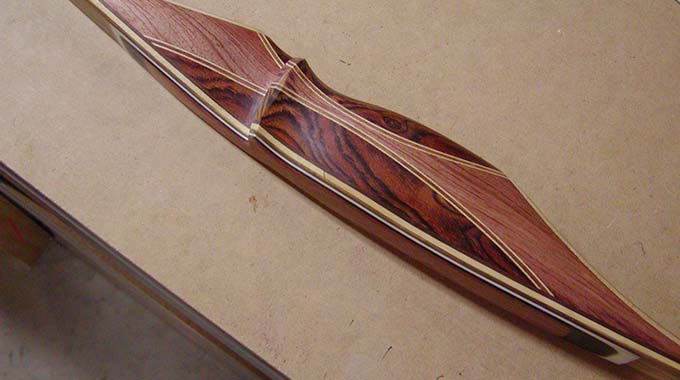 It might seem like there are a million different types of longbow grips/handles, but I think they can easily be classified in five categories of common styles: 1) straight or "Hill"-style, 2) dished, 3) humped, 4) locator, and 5) sculpted/recurve style. Although each has its own definitive shape, you can probably make about any longbow design with any of these grip styles depending on your preference. In this blog post, let's look more closely at each of these styles.
1. Straight/Hill-style grip
The straight handle is just what it says…a straight grip with no change in thickness from top to bottom of the grip. On a straight grip the cross section is usually rectangular with more or less rounded edges or an elliptical cross section depending on what feels good in your hand.
A straight handle is typically a deep and narrow grip. It is usually about 1-3/4" deep and 1" to 1-1/8" wide for a normal/large grip.
This straight style of grip is often called "Hill-style" because it is the shape of a Howard Hill style longbow and most Hill style clones. It is a simple, flat, straight grip.
The straight/Hill-style grip is usually held with the heel of the palm contacting the grip…also called a dropped wrist hold on the bow.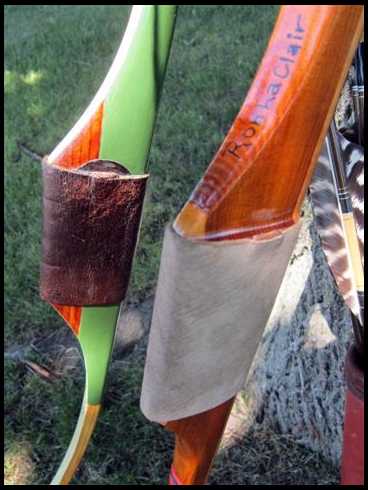 2. Dished style grip
The dished style grip is "dished" or dipped slightly in the middle. The shape is gently rounded to be slightly thinner in the middle. I guess this just allows your bow hand to gently cradle easily into the center of the grip.
Like the straight grip, it is also typically a deep and narrow grip with a rectangular or elliptical cross section, and usually about 1-5/8" to 1-3/4" deep and 1" to 1-1/8" wide. Some Hill-style longbows are made with a dished grip.


3. Humped style grip
The humped style grip is "humped" or raised slightly in the middle. I'm not sure this is the proper name…maybe one exists…I don't know, but I just call it humped…lol. It is the opposite of the dished style, being gently rounded and thicker in the middle and thinner at the top and bottom. The humped style is seen on many self bows or solid wood one piece bows. It is a very comfortable style of grip, especially on narrow self bows. The humped style grip looks great on self bows. It gives them a look of refinement and understatement…very sleek and classy.
Unlike the straight grip and the dished grip, a humped style grip usually has more of a round cross section, being closer to the same measurement in both depth and width. It is usually less deep than the others and about the same width.
It is usually about 1-5/8" to 1-3/4" deep at the deepest part.
Don't knock it until you try it! (Pardon the pun.) A humped style bow can be very stable to grip and comfortable to shoot. Because it is the smallest style of grip, if you make a fiberglass composite bow or laminated wood bow with this style of handle, it is a good idea to put fiberglass reinforcement layers inside the grip for draw weights suitable for hunting.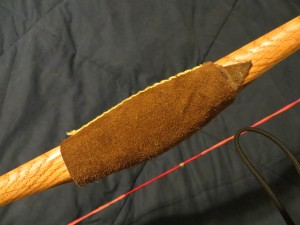 4. Locator style grip
The locator style grip is probably the most popular modern longbow grip style. It has a slight pistol grip shape with a subtle indention or "locator" dip where the thumb and middle finger wrap around the deepest part of the handle. When the riser block provides enough real estate, I typically prefer a locator style grip. The riser/handle block you start out with has to be large enough for this grip because it is slightly more sculpted than straight, dished, or humped grips. This is my favorite style because it helps me place my thumb and forefinger in the same place on each shot. Also, when I build the locator point right at bow center, it allows the bow to balance naturally while I am carrying it around.
For a normal/large size grip, a locator style grip is usually about 1-5/8" to 1-3/4" thick at the deepest point of the grip and 1-1/8" or so wide at the narrowest point. It is typically deeper than it is wide, but it has a rounder cross section than a straight style grip, and yet not as round as a humped style grip.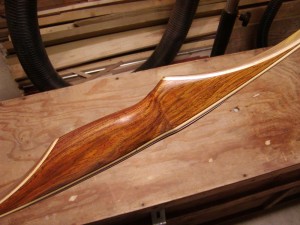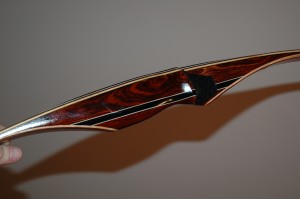 5. Sculpted/recurve style grip
The sculpted or recurve style grip is deeply sculpted to fit the hand like the grip found on a recurve bow. This style is usually dramatically shaped to fit the hand, having a very deep point for the web of the hand, and often has a palm swell to fill out and support the palm. It is usually very sculpted both in depth and in width.
Sculpted grips can be low, medium, or high wrist, and the palm swell is sized to match. The cross section at the deepest point of the grip is similar to the locator style grip, being slightly deeper than it is wide.
Also like a locator style grip, the deepest and narrowest points of the grip are located at the locator point where the thumb and forefinger hold the handle. Like the locator style, the main reason that I like this style so much is that it helps me place my thumb and forefinger in the same place on each shot, which makes it easier to be consistent from shot-to-shot.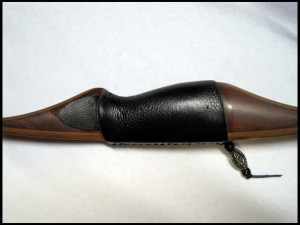 Please feel free to make a comment below and share on Facebook and Twitter.